Hello AFPD flyers. Just completed a:
ParkZone Radian Pro for AFPD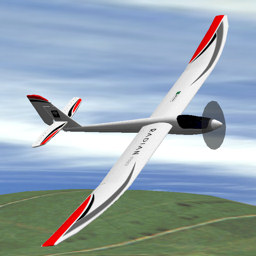 Special Note: This AFPD model should be extracted from the .zip
file and the folder copied to the AFPD aircraft directory. Then
the .wav file for the model needs to be copied to the AFPD sound
directory. Please read INSTALL.TXT and EULA.TXT included. Special
thanks to Hans Wonner and Arthur Schönknecht for the fine-tuning
of this model.
The Radian Pro is a 5 channel (A/R/E/T/F) electric glider which
followed the original 3 channel (R/E/T) Radian which was very popular.
With the ailerons, a flatter and stiffer wing along with the
flaps, the Radian Pro paired with a computerized radio with
mixing can provide crow, camber and reflex in addition to flaps.
All these improvements expanded the capabilities of the Radian Pro
to learn all the methods for enhancing lift and pin-pointing your
landings
website: http://www.parkzone.com/Products/Default.aspx?ProdID=PKZ5475
video: http://www.youtube.com/watch?v=_pFEi2yro0Y
review: http://www.rcgroups.com/forums/showthread.php?t=1366200
rcgroups: http://www.rcgroups.com/forums/showthread.php?t=1308946
WingSpan: 78.5 in. / 2000 mm
Length: 45.0 in. / 1140 mm
Weight: 34.6 oz. / 980 g
Battery: 3-cell 11.1V 1300 mAh 20C LiPo
Motor: 480 size brushless motor 960Kv, 30A ESC
Prop: 9.75 x 7.5 in. / 24.77 x 19.95 cm. folding prop
Good Flying! -- Gary (my afpd web site)