Hello rc simmers,
Just completed the sim models for a PilotRC Sbach 342 53". Please give
this one a try and if you have the model, give us some feedback.
______ClearView_________________FMS________________RC Desk Pilot_____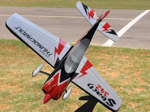 _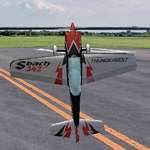 _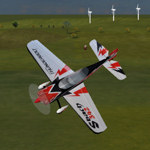 _
RC Groups discussion
Xtreme Pilot video
Pilot-RC web site
Note that this model is based on the 53-inch electric version
of the PilotRC Sbach 342, PilotRC has several much larger versions.
Model Specs are:
Pilot RC 18% 53" Sbach 342 Red/Black Thunderbolt Electric Carbon Fiber
ARF (Almost-Ready-to-Fly) Electric Airplane
Wingspan 53" (1.35m)
Wing Area 623 sq in(4022 sq cm)
Fuselage length 47" (1.2m)
Weight flying weight 66 Oz (1.88kg), empty weight 41 OZ(1.17kg)
Engine A30, A40 serial Electric Motor, Hacker A30-12XL Motor
Batteries: 4S 2200-4000mAh or 5S 2200-3800mAh LiPo
Radio: 5 channel, 4 micro servos
Give them a try and let me know what's what.
-- ggunners