Hello Flyers!
Just completed the first version of the new Firebird Stratos.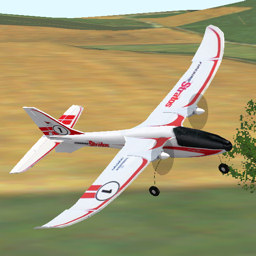 This is one awesome RTF airplane, it has terrific looks and comes
with some awesome technology for easing a newbie flyer into a
successful flying hobby. They call it Electronic Virtual
Instructor technology and experienced pilots can think of it
as a roll gyro with a mixing radio that makes it easier
to fly the model and keep it straight and level and well
behaved in the turns.
I bought mine at Hodges Hobby during SEFF 2012 right as it came
off the shipping truck.
WebSite: http://secure.hobbyzone.com/HBZ7700.html
Video FliteTest Review: http://www.youtube.com/watch?v=fBRShTlFpGA
WingSpan: 42 in. (1.070 m)
Length: 30 in. (0.765 m)
Weight: 17.0oz. (0.482 kg)
Battery: 2-cell 7.4V 1300mAH LiPo
Power System: twin 180 brushed motors
Prop size: 4.75 x 2.5 counter-rotating
Flight Time: 10+ Minutes
Radio System Included: 3-Channel 2.4Ghz Radio
CofG: 0.8in (20mm) in front of landing gear
Happy Flying! -- ggunners