Hello flyers!
Coming from some recent publicity on the cover of Make magazine,
the towel easy build delta is gaining some awesome recognition.
Here's the RCDP version of the towel and the FMS version too.
________RC Desk Pilot_______________FMS___________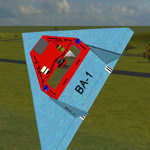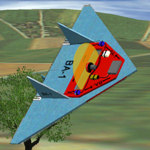 The towel is a fun and easy to build delta airplane. With prudence,
you can build it pretty inexpensively. The parts lists and videos linked
from the Brooklyn Aerodrome website (http://brooklynaerodrome.com/)
will help you get it built, flown, crashed and rebuilt. Go make it and
have some fun.
Build Thread: http://makeprojects.com/Projec…Plane/2042/1#.T9fDaT5Yvr9
Build Videos: http://www.youtube.com/playlist?list=PLBB7A58DCC7745FEB
Model Specs are:
AUW: 18 ounces (0.51kg)(estimate)
WS: 42.0 inches (1.069m)
Length: 23.0 inches (0.584m)
Materials: Fan Fold Foam (FFF) DOW Bluecore with Coroplast Deck
Motor: brushless 1400kv motor and brushless 18A ESC
Prop: 10 x 4.7 slow fly
Batteries: 2 cell 1800 mAh 10C 7.4v LiPoly
Transmitter: 4 channel 2.4Ghz like TTX404
Receiver: 6 channel 2.4Ghz like TTX600
Please try the sim versions and let me know how they fly
compared to the real model.
-- ggunners