Hello Sim Flyers,
Once more, a request came along for an RC Sim model of the
PT-17 Stearman in yellow and blue. This is one pretty model.
The 3D model from Shinichiro Nishiya from 2001 was my starting
point. I kept a few parts of his original model and redid what was
needed to satisfy CV. Then I created a brand new image map
for this gorgeous airplane.
________Clearview___________________FMS__________]______RC Desk Pilot_____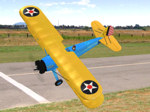 _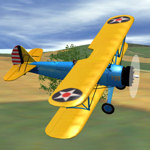 _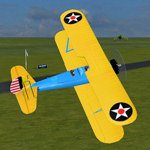 FMS PT-17 Stearman
- Wing Span: 1,050mm ( 41.3in )
- Length: 850mm ( 33.5in )
- Flying Weight: 1,060g ( 37.39 oz. )
- Servo: 9g Servo x 4
- Motor: 3536-KV850 Powerful Out runner Brushless Motor
- ESC: 35A Brushless ESC
- Propeller: 11X7 2 Blade Propeller With Spinner
- Battery: Li-Po 11.1V
- Radio: 4 Ch Radio Control
Stearman on RC Groups
Vendor site
Video
I hope you enjoy it. Good Flying! -- ggunners