Hello rc sim flyers,
Just a note that I have completed my first AFPD model today. Hans Wonner gave it a try and declared it fit for flying.
I hope to convert many of my FMS models into AFPD models with many being ParkZone airplanes.
Here's the ParkZone P-51 Brushless.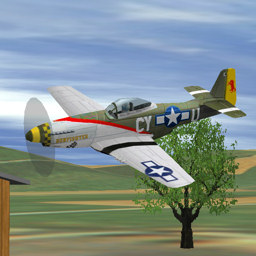 Notes: The ParkZone P-51D RTF/BNF airplane is an awesome
upgrade to the prior P-51 with LiPoly battery, brushless
motor and a much lighter weight. Adding in the Bind-And-Fly
option is just what the RC flyer needs.
http://www.parkzone.com/Products/Default.aspx?ProdID=PKZ1880
Wing Span: 39.0 in / 990mm
Overall Length: 33.5 in / 850mm
Flying Weight: 25.0 oz / 710g
Motor Size: 480 power (960Kv) brushless outrunner motor
Prop: 9x6
ESC: 18A brushless
Battery: 3-cell 11.1V 1200mAh LiPoly
Channels: A/E/T dual aileron servos, optional rudder channel
Requires: full-range DSM2 aircraft transmitter (sold separately)
Gear: none, belly lander
I have this model and it not a trainer. The model requires a bit of
speed with the low wing loading. It will do all the aerobatics
you can throw at it and handles the wind really well.
-- ggunners